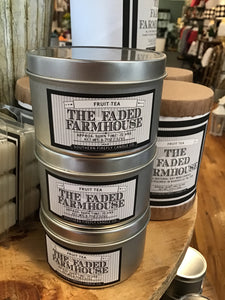 Our Signature Scent, available exclusively at The Faded Farmhouse. NOW in wax melts. Farmhouse Fruit Tea! One of our Favorite things in the south, is FRUIT TEA! This local made, hand poured, soy melt smells so good that you can almost taste it!
Southern Firefly Candles are made in a 6.2 ounce tin container with all natural soy wax, double cotton wicks, and contain no dyes or additives. Resulting in an eco-friendly candle with a incredible strong scent and long 20 hour burn time.

Before lighting, Trim the wick to ¼ inch each time before burning. Long or crooked wicks can cause uneven burning, dripping or flaring.